The slogans of my life are "A day without laughter is a day wasted" and "when too much trouble comes to you, Rest but Never Quit".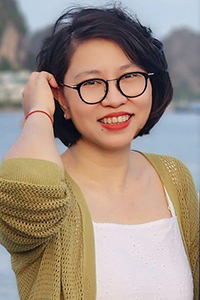 Name: Nguyễn Thị Thúy Thu
DOB: 1982
Phone No.: (+84)989641083
Email address: nguyenthuythu83@gmail.com
Home address: An Đà, Hải Phòng
Ethnicity: Kinh
Religion: None
Marital status: Married with 1 child
Division: Translation, Culture and Theoretical Linguistics
Working since: Dec 4th, 2014
Educational background:
– Bachelor, English Language Teacher Education – Haiphong University
– M.A., English Language – ULIS, Vietnam National University
Foreign languages: English, Russian
Being a teacher, I believe that "teaching is not only a job but also an art" (Bygate.M, 1987). I love teaching Speaking skill and Cross-cultural communication. Besides, I really like talking, sharing things with my students and sometimes I give them some advice if it is necessary.
And as every woman, I am a shopaholic. I like going shopping with my dear friends and my lovely sisters. I am also hooked on listening to all kinds of music singing Karaoke, dancing, and reading comics. Furthermore, I am a crazy fan of American movies, especially action and horror ones. I always spend my free time watching movies with my family at home or at the cinema.