I love my beautiful Vietnam.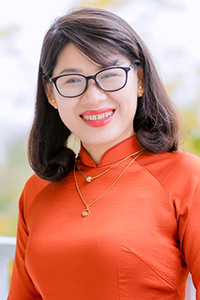 Name: Trần Ngọc Diệp
DOB:
Phone No.: (+84)904215688
Email address: dieptn.vmu@gmail.com
Home address: Nam Pháp 1, Đằng Giang, Ngô Quyền, Hải Phòng
Ethnicity: Kinh
Religion: None
Marital status: Married with 2 children
Division: Translation, Culture, and Theoretical Linguistics Division
Working since: Apr 21st, 2015
Educational background:
– Bachelor, Literature – Hanoi National University of Education
– M.A., Linguistics – Institute of Linguistics – 2009-2011
Foreign languages: English
I teach Vietnamese in the Faculty of Foreign Studies, Maritime University. I am married with 2 children. My husband is also a teacher. My daughter is 15 years old, my son is 11 years old. We live in HaiPhong. My hobbies are cooking, shopping, and travel. I like to cook a lot of delicious food for my family. I like to travel to gain a rich understanding of the people, customs, and landscapes of our homeland and other countries around the world.