I work with responsibility and consider it as the most important quality for my career.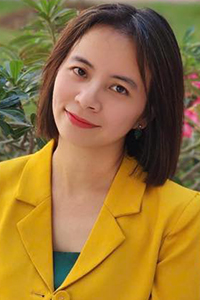 Name: Nguyễn Thị Thảo Linh
DOB: Aug 1st
Phone No.: (+84)934222937
Email address: thao_linh_nguyen@hotmail.com
Home address: An Đà, Đằng Giang, Ngô Quyền, Hải Phòng
Ethnicity: Kinh
Religion: None
Marital status: Married with 1 child
Division: Applied Linguistics
Working since: Apr 4th, 2011
Educational background:
– Bachelor, English Language Teacher Education – ULIS, Vietnam National University
– M.A., Management of Language Learning – University of Greenwich, UK – 2009-2010
– Doctoral student, English Education – Hanyang University, Republic of Korea
Foreign languages: English, Korean
I've always been loving the teaching career since I was a little child. With that in mind, as an English language teacher at Vietnam Maritime University, I would like to bring my students not only the language but also interest and passion to discover the world through English.